No I am not going to talk about the cpu clock of our Oric
Did you ever hear about the brand name "Atmos Clock"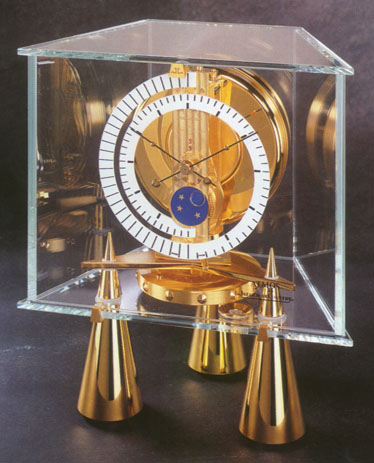 According to the wikipedia, Atmos is the brand name of a mechanical clock manufactured by Jaeger-LeCoultre in Switzerland which does not need to be wound manually. It gets the energy it needs to run from temperature and atmospheric pressure changes in the environment, and can run for years without human intervention.
Its power source is an internal hermetically sealed capsule containing a mixture of gaseous and liquid ethyl chloride, which expands into an expansion chamber as the temperature rises, compressing a spiral spring; with a fall in temperature the gas condenses and the spring slackens. This motion constantly winds the mainspring. A temperature variation of only one degree in the range between 15 and 30 degrees Celsius, or a pressure variation of 3 mmHg, is sufficient for two days' operation.
The first Atmos clock was designed by Jean-Léon Reutter, an engineer in Neuchâtel, Switzerland, in 1928.
On 1 June 1929, Compagnie Générale de Radio (CGR) in France began manufacturing the first commercial model, Atmos 1
To date, over 500,000 Atmos clocks have been produced.
http://en.wikipedia.org/wiki/Atmos_clock
How fascinating
Since history of this clock is way more than our Oric Atmos, I wonder if there is a relationship with naming of it?