Hi all,
I'm in possession of 2 versions of "Oric multigames 1" by Tansoft. I suspect this game is a very early release (copyright 1983, recorded in slow mode...)
One has the classical Oric-1 look (computer with blue and dark background, like on the Oric-1 box). The other has the same picture, but in yellow. See: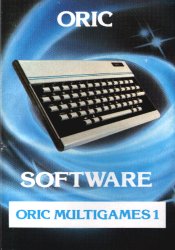 The same goes for other games that had an alternate green inlay (Oric Forth), red (Zodiac) or grey (Oric Flight). The tape inside also has the same colour, so I don't think it's a printing mistake. The programs are exactly the same.
Does anyone know why those "colour versions" existed? Was it just some kind of revamping, or for instance a special bundle that were given with Orics... ?